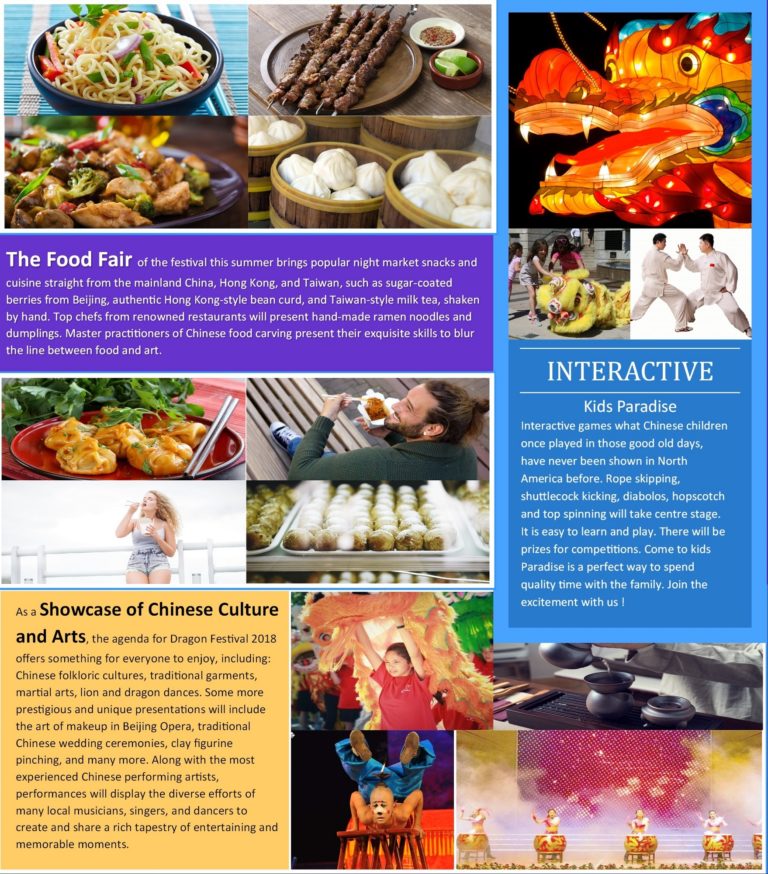 Dragon Festival 2018 is a mind-opening cultural event with the core purpose of promoting Canadian multiculturalism by sharing Chinese traditional culture and arts with Canadian mainstream society. We hereby invite individuals from diverse backgrounds to join hands with us and experience together the wonders of traditional Chinese culture.
This event will take place in Nathan Phillips Square in downtown Toronto, where cultures meet and mingle in the dynamic centre of Canada. This also marks the first time in our festival's history that it takes place in Toronto — in fact, from now on, we will have the honor of embracing Dragon Festival and the charm of Chinese culture every year, right here in Toronto!
As a showcase of Chinese culture and arts, the agenda for Dragon Festival 2018 offers something for everyone to enjoy, including: Chinese performing arts, traditional Chinese customs, Chinese folkloric cultures, traditional Chinese garments, martial arts, and lion and dragon dancing. Our amazing food will delight your senses and broaden your palette, as there will be a wide range of select Chinese cuisines to try. Some more prestigious and unique presentations will include the art of makeup in Beijing Opera, traditional Chinese wedding ceremonies, clay figurine pinching, and many more. Along with the most experienced Chinese performing artists, performances will display the diverse efforts of many local musicians, singers, and dancers to create and share a rich tapestry of entertaining and memorable moments.
As an open-access event, Dragon Festival 2018 aims to immerse our guests in the essence of Chinese culture in the most interactive and engaging way. Not only can our guests participate as viewers, they can further celebrate by actively taking part in different Chinese traditions through the stunning variety of different activities available.
Through the creativity of the organizing team, the brilliance of the performers, the taste of good food, and most of all the interactive atmosphere, Dragon Festival 2018 will surely be a wonderful summertime event for everybody to enjoy. Come and discover the vibrant culture, spirit, laughter and joy with Dragon Festival 2018 from the heart of Toronto!